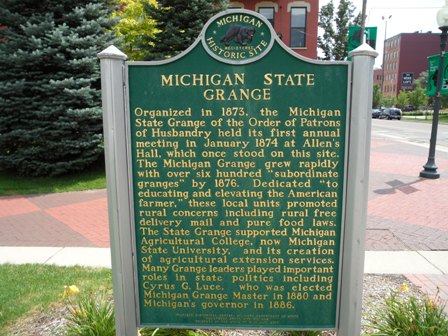 HISTORICAL COLLECTIONS MISSION
The mission of the Michigan State Grange Historical Collection
Committee is to collect, preserve and display, and otherwise
disseminate knowledge, about those artifacts and manuscripts
of historical significance which best represent the development
and growth of the Michigan State Grange.
Dormant Grange records previously held at the Michigan
State Grange headquarters have been catalogued and placed at
the Michigan State University Library Archives and the University of Michigan Bentley Library for preservation. Records are
available to those doing educational research, genealogy, and to
interested Grange members. We continue our relationship with
leaders at both universities.


Grange memorabilia and artifacts have also been placed
with the Michigan State University Museum and the Michigan
History Museum at the Michigan History Center.
​
We have recorded many Subordinate Grange histories and
we continue to record others as we find them. If you write a
history of your Grange for an anniversary or any other occasion, send us a copy to be included in your historical records.
​
Several hundred Grange Hall pictures have been identified,
printed and location listed. We welcome the receipt of any
Grange Hall pictures plus information regarding location.
​
The Past Masters notebooks in another project. The burial
place of
each deceased Past Master has been located, and pictures taken
of the gravestones, including cemetery location. Historical information is included in the notebook about each Past Master.
​
When the State Grange Office closed, many pictures that
were there were sent to the Bentley Library in Ann Arbor. Before they were sent, copies were made of many of them and
they have been placed in plastic pages in notebooks. Naming
people in the pictures and adding dates and locations is still
needed for many of them. If you have a special picture from
your Grange that you would like to have included in one of
these books, send me a copy by mail or e-mail and I will see
that it is included.


A digital database has been created, sorted by county that
includes Grange Hall photos, as well as histories and other
documents. It is planned to make this available to Michigan
State University and University of Michigan.
​