LUANNA SWAINSTON, DIRECTOR


965 108th St SW
Byron Center, MI 49315
616-877-0169
Cell: 616-262-3516
plswainston@hotmail.com
POSTERS ARE NOW AVAILABLE!

We now have reprints of four of the previous Deaf Awareness Posters. Contact me if you wish to have posters, etc.



American Manual Alphabet

: This poster is one that we did not have to reprint. This poster could be used in schools, churches, libraries, Grange Halls or anywhere that people come in contact with deaf or hearing impaired people. For example, our Grange delivered Dictionaries to a third grade classroom, along with Deaf Awareness items (one being the Manual Alphabet poster) and in one of the thank you's we received, one of the students had learned the alphabet. Another third grade teacher had her students do their spelling words in sign language. There are many possibilities with this.



Your Noisy World Could Get Silent

: This poster is a chart that shows the potential hearing hazard of the loudness of sounds combined with the length of exposure to sound and how it can create a permanent hearing loss. Preventions are suggested on this poster. It shows the decibels of many electronic devices that we are in contact with everyday.



Pledge of Allegiance

: This poster could be placed in schools, Grange Halls, libraries, etc. An idea that can be used is to do parts of it at each of your Grange meetings until everyone can sign it.
Do You See the Signs: (of hearing loss) This poster could be placed in church nurseries, day care centers, pre-schools or wherever adults can view them. It is a poster to make parents aware of what an infant to 12 months should be able to do, from 12 months to 2 years, from 2 years to 4 years and 5 years old.



Grange Deaf Awareness

: Awareness – communication is key to qualify of life – hearing loss is permanent- early detection and treatment is essential, etc. Education – educate the public with printed material, video programs, classroom instruction, special equipment, information, programs. Prevention- hearing protections used, hearing testing, newborn hearing screening, personal education.


JANUARY/FEBRUARY 2018 GRANGE NEWS


Christmas Party at the Michigan School for the Deaf


​We had another successful Christmas party with 30 students at the Michigan School for the Deaf. Thanks to the many Granges and Grangers who helped make it exciting for the students. Included Granges were Runs #160, Gratiot #1898, Burr Oak #1350, Barnard #689, Oceana Center #1047, West Oshtemo #1630,
St. Joe/Cass/Kalamazoo Pomona #4, Fredonia #1713, North Adrian #721, Rome #293, Plymouth/Westland #389, Mid MI Pomona #61, Studley #1174, Mosherville #1351, Carlisle #812, Kinney #754, and the Michigan State Grange. Grangers who were involved were the Claudia Libbey family, Marshall and Jackie Bishop, Ted and Helen Mudd and Tricia Eidsmoe, Phil and Luanna Swainston, Peggy Johnston, Dale Moore and Sharon Popler.
​
Mr. Mark Bovey, the Assistant Manager, welcomed the Grangers and thanked us for continuing to support the school and the Christmas party. He then introduced Camille Jeter-Lorelle who signed the story, The Night Before Christmas while Jackie Lozano interpreted the story. What a fantastic job they did. The students then had a lunch of pizza, chips and pretzels, cookies and beverages. Thanks to Burns Grange and Studley Grange for supplying the beverages and Studley and Kinney Grange for supplying cookies. Thanks to Sharon Popler, Helen and Ted Mudd and Tricia Eidsmoe for serving the pizza. Thanks to Fern Grange #803 for a sizeable donation to help with the party.

​​Then what the students were anticipating was opening their gifts. What an exciting group of students and the enjoyment the Grangers had of watching the excitement and happy smiles on the student's faces. Thanks to the many Granges and Grangers involved in the Adopt-a-Child Program. You made "their day"! It was all worth it!!! From the State Session I took 2 small quilts, 3 knitted/crocheted blankets, and a scarf and mittens to the school. Also included were 297 Box Tops, 160 Labels for Education and 59 Spartan UPC symbols. Please continue to save the Box Tops and Labels for Education. What a great support we have from our Granges and Grangers involved in these programs. It makes it all worthwhile. Thanks to Susanne Middlewood, from the school, for all her help in making this a successful party too.
​
I hope each of you and your families had a Merry Christmas, and wishing everyone a bright and Happy New Year!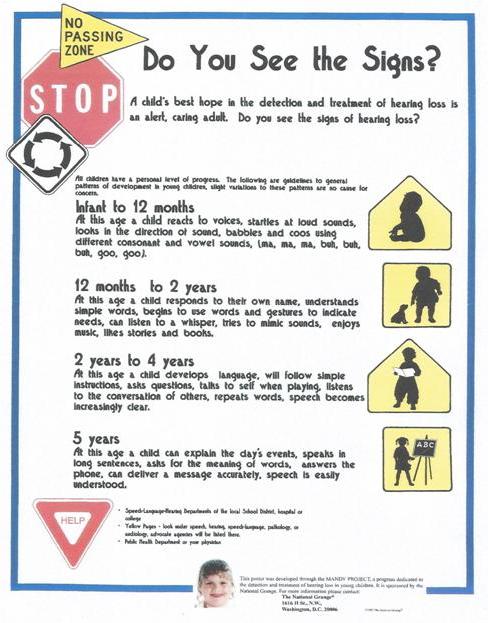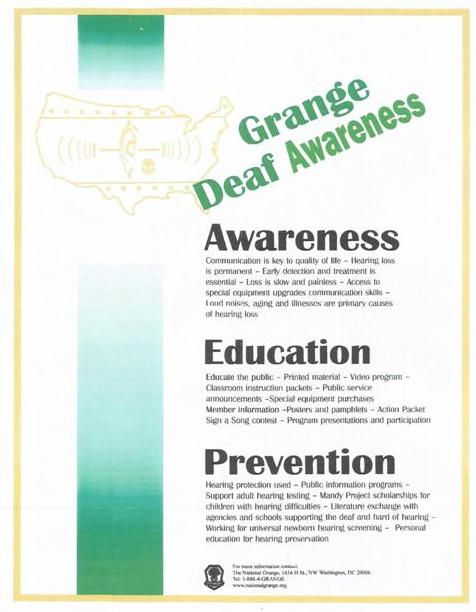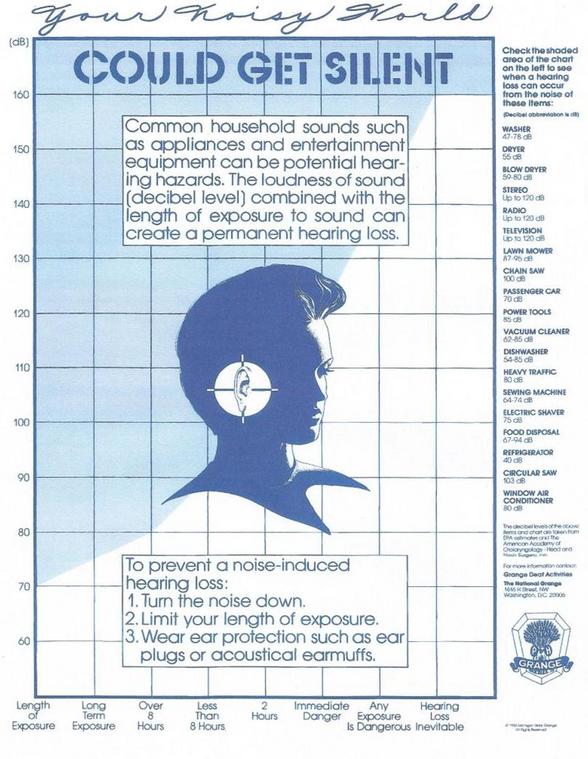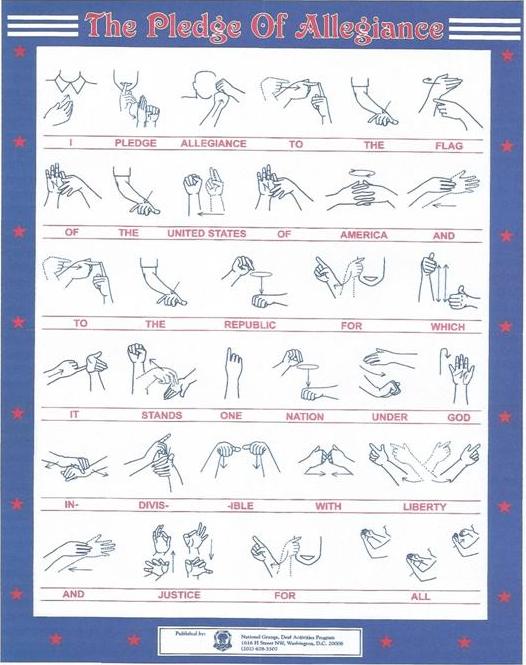 NOVEMBER/DECEMBER 2017 GRANGE NEWS

The Michigan State Grange Convention is over and I felt it went well. There was not a big delegation but I felt it was a good session. There was positive concerns and much fellowship. I didn't have many entries in my contest but what I had was very good.

​​In the Essay Contest I had three entries. 1st Place: Peggy Johnston, Burns #160, 2nd Place: Jackie Bishop, Home #129, 3rd Place: Sharon Popler, Burns #160. I read the essays and I am glad I didn't have to judge them. Marcus and Cory Johnston had entries in the Poster Contest for Juniors and they shared good ideas on deaf awareness.

​​Other awards presented:
Deaf Awareness Donors
Rome #293, Mid Michigan Pomona #61, Community #1675, Burns #160, Gratiot #1898, West Oshtemo #1630, St. Joseph/Cass/Kalamazoo Pomona #4, Barnard #689, Home #129, Carlisle #812, Mosherville #1351, Pittsfield Union #882, Kinney #754, Studley #1174

​​Granges Filing Report Form
Lena Young—Community #1675, Peggy Johnston — Burns #160, Janice Merten—Oceana Center #1047, Jessie Cunningham — Barnard #689, Iris Stout — Rome #293, Beverly Matheny — North Adrian #721, Sharon Popler — Gratiot #1898, Robert Latterner — West Oshtemo #1630, Angela Kurburski — Harbor Springs, Doris Buehrer — Moshervill #1351, Phil Swainston — Carlisle #812, Andrea Peck — Fredonia #1713, Beverly Matheny — Lenawee Pomona #15, Dale Moore — Mid Michigan Pomona #61, Lois Hicks — St. Joseph/Cass/Kalamazoo Pomona #4
​
MSD Adopt-a-Child Program
Claudia Libbey Family (2 children), Burns Grange #160 (2 Children), Burr Oak Grange #1350, Studley Grange #1174, Gratiot Grange #1898, Plymouth/Westland Grange #389, North Adrian Grange #721, West Oshtemo Grange #1630, St. Joseph/Cass/Kalamazoo Pomona #4, Mid Michigan Pomona #61, Barnard
Grange #689, Kinney Grange #754, Carlisle Grange #812 (2 Children), Phil & Luanna Swainston, Marshall & Jackie Bishop, Oceana Center Grange #1047, Keith & Stacey Bower, Mosherville Grange #1351, Fredonia Grnage #1713, Peggy Johnston, Dale Moore, Sharon Popler, Phil & Luanna/Kenneth Becker, Ted/Helen Mudd and Tricia Eidsmoe, Michigan State Grange (3 children)

​I had a request at the session if the Michigan School for the Deaf could use dorm items. I asked and got a response. The list is as follows:
1. Slippers—from mainly 4 years to 11 years, some older students.
2. Board/Card games such as SkipBo, UNO, Racko, Connect 4, etc.
3. Personal Hygiene — deoderant , shampoo, soap, toothpaste, toothbrush (suggest that the
items be in a Ziplock bag).
4. Drawstring laundry hamper (approximately size 24 x49 inches) .
5. Pillows.
​
The slippers and the laundry hamper will be in the Deaf Awareness Program for 2017-2018.
The "WISH LIST" I received from some of the teachers:
​


Valerie Nordstom

— EXP Program
We are in the process of planning and building a community garden at MSD. Some
things we could use to help are:
1. A small tiller to turn the dirt in the raised garden beds.
2. 25 foot long tape measure
​3. Watering can
4. Spray nozzle for hose.
5. Sprinkler



​Stacey Jenkinson

— ELA
1. Barnes and Nobles gift cards for classroom
books (to purchase graphic novels)
​


Teri

— Educational Resource Center (ERC)
1. Line paper
2. Glue sticks
3. Educational flash cards
4. Educational posters
5. Pencils
6. Globe
7. Index cards
8. Educational books
9. Scissors
10. Erasers
​


Teri Miracles

—counseling Wish List
1. Squeeze balls
2. 2 small size stuffed wolves
3. Medium size globes
4. Colored pencils
5. Adult coloring books
6. Clay
7. Acrylic paint (Variety of colors)
8. Monthly planner
9. Moon sand
10. Comic books
11. Composition books or journals
12. Pencils/pens
13. Small size pillow
14. Drawing paper
15. UNO
16. Games
17. Rugs
​


Kelly Laatsch

— List of books
1. Shadow Lands Level 2: Coven Teenage witches in the Shadow Lands books by Lisa Benjamin
2. It's All True by Lisa Benjamin
3. Carter High Senior Year—Set 2 by Elenor Robins
4. What On Earth Science Science Series—Set 1 by Lynn and Bart King Susie Van Horn
5. ​Bookends STEELMASTER Deluxe Steel 9 inch Bookends, 1 pair, Cobalt Blue (would like 7 sets of these) $4.91 + S&H
​
I am writing for the names of students for the Adopt-a-child for the Christmas Program. I have names of some Granges and Grangers and if you have not contacted me yet, please do so soon. Thanks!
​
Wishing each of you a blessed Thanksgiving and a Merry Christmas and Happy New Year! May 2018 be a happy and healthy year for you!​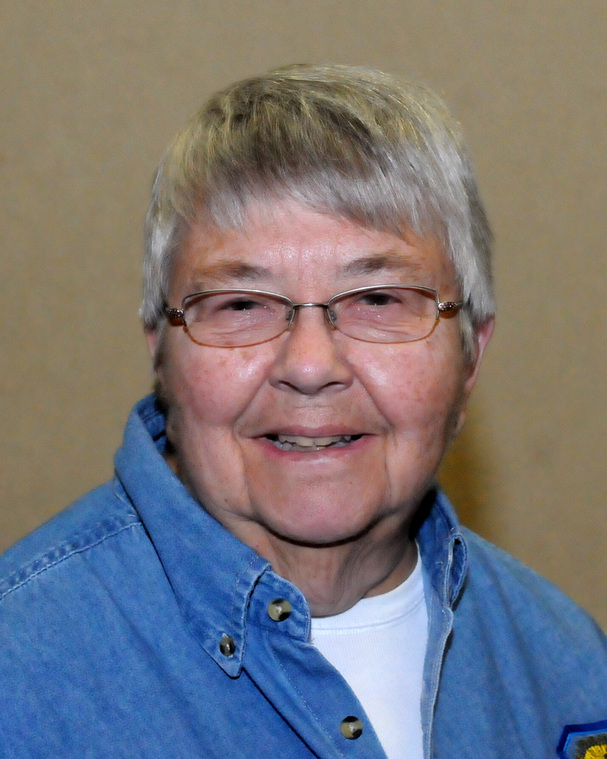 NEED DEAF AWARENESS POSTERS???

SCROLL DOWN!!