2015-2016 Michigan State Grange Officers



​​​​

Master: Christopher Johnston
Overseer: Jeff Swainston
Lecturer: Sharon Popler
Steward: Ted Mudd
Asst. Steward: Tim Johnston
​Lady Asst. Steward: Barbara Johnston
Chaplain: Kathryn Strouse
Treasurer: Kevin Young
Secretary: Peggy Johnston
Gatekeeper: Walt Murphy
Ceres: Nancy Swainston
Pomona: Karen Strouse
Flora: Tricia Eidsmoe
Executive Committee:
Jackie Bishop
Ron Ely
Dale Moore
Pianist: Kevin Young

PENNIES FROM HEAVEN COLLECTION

We have obtained a new container to collect pennies (or other forms of money) to help with the expenses that the Michigan State Grange will have when we again help to host the National Grange Convention in 2019.

Please save your coins, bills or even checks and either send them to the Michigan State Grange office at 404 S. Oak Street, Durand, MI 48429.

Expenses that we have vary from convention to convention but normally amount to a large sum. This is just one way we can help "in a small way" to come up with the amount needed. I've got the bottom covered!



SAVE! SAVE! SAVE! SAVE! SAVE!
CAN YOU HELP??

MICHIGAN STATE GRANGE WISH LIST
If you can help out the Michigan State Grange with some of the items listed on the list below, it would be greatly appreciated. Your help would reduce the office supply cost for this next year. Please consider giving.

Mail it to Michigan State Grange, 404 S. Oak Street, Durand, MI 48429. Thank you!

1st class stamps. (Books or rolls)

Black ink cartridges HP 61XL

Color ink cartridges HP 61

8 1/2 x 11 copy paper (reams) 20# weight

11 x 17 copy paper (reams) 20# weight (for MGN)

#10 White business envelopes

6 x 9 OR 9 x 12 Manila envelopes

Pencils. #2 lead

Bic Round Stic Grip Pens - fine tip - black ink

Sticky note pads

Paper clips - large or small

White address labels 1" x 2 5/8"
Views since 2015 State Session
Starting October 19, 2015

MAY IS BETTER HEARING MONTH!!


The National Grange adopted deafness as its health project in 1970. Throughout the years this program has evolved to include all levels of hearing loss. Local Granges in many states have supported the program by educating themselves and others about hearing loss. Projects which benefit deaf and hard of hearing are done by distributing to schools, libraries, and other interested community groups the brochures, posters, and bookmarkers, that are available through the Deaf Awareness Department.

In Michigan we have an ongoing project or program with Michigan School for the Deaf. We sponsor children at Christmas time, we place an ad in their yearbook, we give a $500.00 scholarship to a graduate each year and we are always willing to help them in other ways throughout the year. We also have been giving a donation to help children that attend the Alexander Graham Bell Summer Camp.

For a number of years we have collected aluminum, Campbell soup labels, and Labels for Education for local schools and for the Deaf Program. The collection of aluminum has dwindled by quite a bit over the last few years. The price of aluminum has also gone down so we don't get a lot for the little bit of stuff we turn in. The money to do these projects for Michigan School for the Deaf and for Alexander Graham Bell Summer Camp comes from the money received from the Aluminum and from donations from Granges and Grangers across the state.

Your Grange has recently received an appeal letter to give a donation to the Michigan State Grange Deaf Awareness Fund….please consider giving!


Registration for the 150th National Grange
Convention is now available!
Don't miss this historic anniversary of our great order!

On-line registration is now open!! Please take advantage of the $25.00 early bird registration and save $5.00. You can register now through September 2nd to receive this savings. After September 2nd, registration fee is $30.00.
On-line registration ends October 28th.

Please join us for the 150th Annual Convention of the National Grange hosted by the Eastern Region! Come join your Grange friends from across the nation at The Hilton Dulles Airport Hotel located in Herndon, Virginia
November 15 – 19, 2016.

Click here to go to the National Grange Convention Registration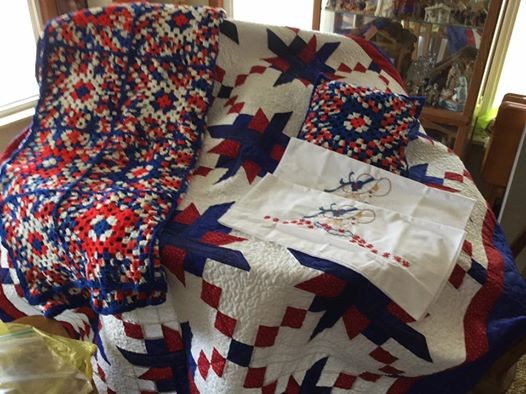 FAMILY ACTIVITIES QUILT RAFFLE
1st prize: Red, White and Blue Quilt
2nd prize: Red, White and Blue
Afghan and Pillow
3rd prize: Hand Stitched Pillowcases

Tickets are $1 each or 6 for $5.00.

Drawing will be Oct. 2nd at Burns Grange at 2 p.m.

Proceeds from this raffle go to help the region of northern Michigan Granges to help with the hosting of the annual convention in October.

Contact Peggy Johnston, 989-288-4546, for tickets to purchase or sell.