2022-2023​ Michigan State Grange Officers



​​​​

Master: Christopher Johnston
O​verseer: Sharon Popler
​Lecturer: Jackie Bishop
​Steward: Tim Johnston
​Asst. Steward: Richard Hazen
​​Lady Asst. Steward: Nancy Swainston
​​Chaplain: Jeff Swainston
​Treasurer: Kevin Young​
​Secretary: Peggy Johnston
​​Gatekeeper: Randy Cebulski
​Ceres: Maria Lopez
​Pomona: Mary Beth Bower
​Flora: Tricia Eidsmoe
​Executive Committee: Barbara Johnston, Dale Moore, Tom Smith
​Pianist: Kevin Young

Views since 2015 State Session
Starting October 19, 2015

GOOD DAY!



Get the new quarterly publication from The National Grange!
The year subscription is only $16.00.

​​Get it for yourself, your Grange or as a gift for another member or even that potential member!
​​
Click this link to subscribe​​
Michigan Farmer Hall
of Fame

Want to join the Michigan Farmer Hall of Fame?? Click the links below for the applications to either be inducted or join as a member.

Click here to apply to be inducted into the Michigan Farmer Hall of Fame

Click here to apply as a member of the Michigan Farmer Hall of Fame


Michigan Grange Pins



Available for $5.00 each, if shipped, will cost more.

Contact the State Secretary to purchase or to sell.

Proceeds will go towards celebrating
​Michigan State Grange's 150th Anniversary​​​​​​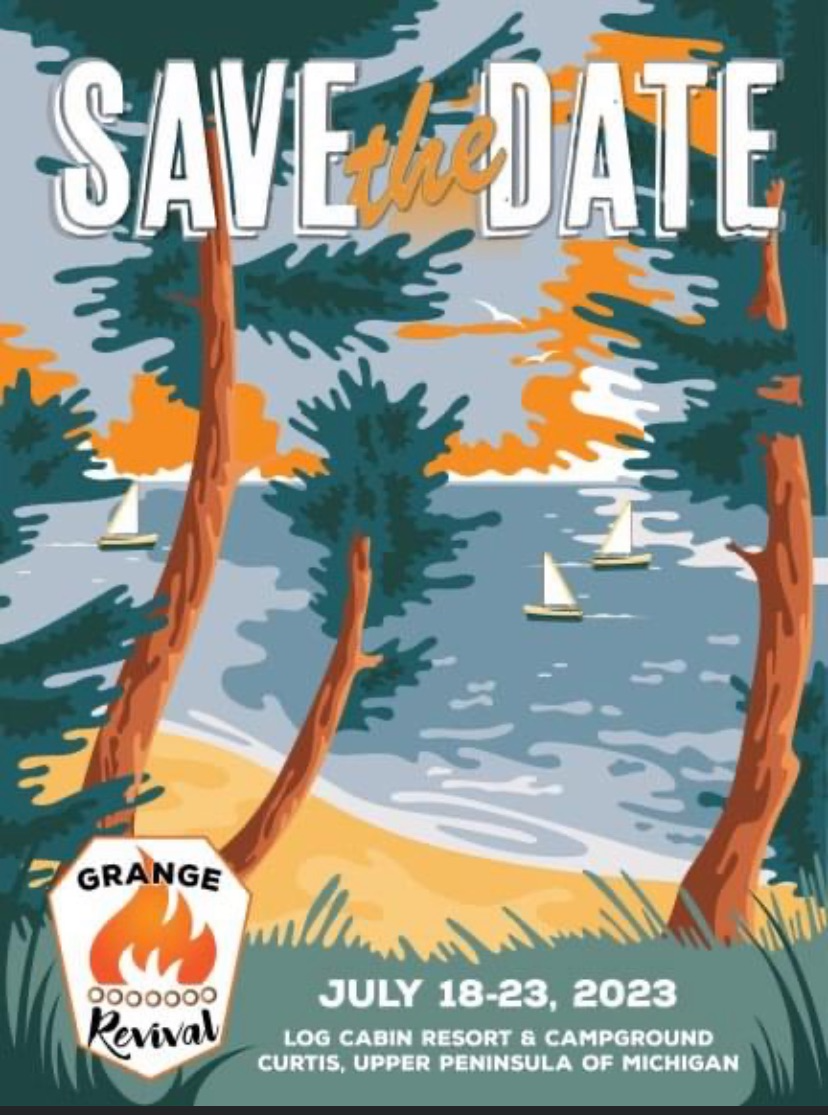 GRANGE REVIVAL 3.0
Log Cabin Resort & Campground
Curtis, Michigan
in the beautiful Upper Peninsula!​​
​July 18-23, 2023
​​Mark your calendars and pack your bags!
Details and registration information ​can​ be found at grangerevival.com
Views since 2021 State Session
Starting November 5, 2021​
For tickets, contact the State Grange Office or any of the 150th Committee Members



​​From the artist of the 'Snowdin':
One of the prizes in the Sesquicentennial raffle is Snowdin. The acrylic painting is three feet by four feet.

The White tiger is a Bengal Siberian tiger hybrid. Stripes are like fingerprints, as no two tiger's stripes are alike. The White tiger weighs between 200 and 300 pounds. He can grow to 9.8 feet in length.

Did you know? When White tigers are stressed or confused; they cross their eyes?

the artist who donated the painting to the Grange is a Police Officer, who has been in public safety services for over 30 years. Most of his paintings are donated to non-profit and charitable organizations, such as Silent Observer, and Lighthouse Autism Century of Kalamazoo. Some of his paintings have been sold in the past for as much as $1,200.00 to help the organizations. He might use his painting time to decompress without crossing his eyes. He wants others to appreciate and enjoy our worlds.​​​​​​