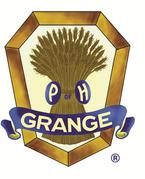 2014-2015 Michigan State Grange Officers



​​​​

Have you met Chuck?



Chuck the Badger is the Michigan State Grange's Official Herd Member. He is here to help raise excitement about the Grange and promote membership.

Chuck went thru some extensive training over the summer and was given to us at National Session. We had a rough start with Chuck as he went missing and then was held for ransom, but since his return we have been keeping a closer eye on him.

Like him on Facebook at "

Chuck the Badger

" as well as "

Grange Herd

" to see what the other states' herd members are doing.

Chuck has already started some Grange work with helping to pass out dictionaries, but if you have an event that you would like Chuck to be at, just let Chris Johnston know and we'll see what we can do to get Chuck there.

It has been asked why we got a Badger when our official state animal is a Wolverine. It was explained that they didn't want to give us a sports mascot that would have some prejudice from a conflicting sports team. (So MSU fans wouldn't be upset with a UofM mascot.)

Grange Items Available
In keeping with our fiduciary responsibilities, the Executive Committee must scale back to a smaller storage unit. At present, there are a number of items in storage that would be better off someplace where they could be truly wanted and enjoyed. One of these potential places is at local historical museums, where Grange history and impact could be preserved. Some items have already been given to Michigan State University Museum and Archives, as
well as the State of Michigan Museum, and Bentley Library, associated with University of Michigan.

We are asking you to go to your local museums and ask them if they would like any of the artifacts listed below. Then, contact Jackie Bishop by e-mail at Jacqueline_bishop@hotmail.com or by phone message at 269-365-0401. We will make arrangements to get these items to you so that you may personally present them to your local history museums.



Items available:


Songbooks – several different ones, some quite old
Grange Seals – there might be one from your county, which could be determined
Regalia – not likely to be whole set, because some not in good condition
Possibly also MSG Proceedings and other miscellaneous items
Creative

FUNDRAISING
F

ind a date in the next year to have an additional fundraising event at your Grange


U

tilize Michigan State Grange officers to help man your event


N

otify the Michigan State Grange office when the event will be and how many people are needed


D

elegate tasks to the Michigan State Grange helpers


R

un the event in the way you normally do


A

dvertise your event in the normal ways


I

nvite lots of people to your event


S

ell to or Serve those that attend your event


I

nclude your processes for success that are used in your other local Grange fundraisers


N

ew concept to replace Michigan State Grange raffles


G

ive the profit to the Michigan State Grange

This is a new approach developed by the Michigan State Grange Executive Committee to be utilized in 2014/2015. Please help our Michigan State Grange have the funds to provide continued support to the Subordinate Granges so that they may serve local communities.
Master: Christopher Johnston
Overseer: Jeff Swainston
Lecturer: Sharon Popler
Steward: Ted Mudd
Asst. Steward: Tim Johnston
​Lady Asst. Steward: Barbara Johnston
Chaplain: Kathryn Strouse
Treasurer: Kevin Young
Secretary: Peggy Johnston
Gatekeeper: Walt Murphy
Ceres: Nancy Swainston
Pomona: Karen Strouse
Flora: Tricia Eidsmoe
Executive Committee:
Jackie Bishop
Ron Ely
Dale Moore
Pianist: Kevin Young

The time is fast approaching for the GLGLC in Vicksburg, Michigan. This conference is for all Grange members. It will be an invaluable event, filled with information and inspiration to help all Grange Leaders and members in the upcoming year. We all face the same obstacles in our subordinate Granges, so please take this opportunity to learn from each one's experiences and to share what we know to help others. Workshops this year will be from the workings of the 4th degree, proper draping of the charter, several Departmental workings, leadership styles and membership growth.

COMMUNITY SERVICE PROJECT: This years project is called the "Friday Pack Program" which is through the Generous Hands Organization. We are asking all who are coming to bring nutritious foods that are non-perishable and can go into backpacks to take home on weekends. These pack's go to children at risk of hunger over the weekends. Foods such as peanut butter, tuna, Easy Mac, canned spaghetti, cereal, oatmeal, Carnation instant breakfast, fruit cups or applesauce, granola bars, trail mix, microwave popcorn pretzels, animal crackers or 100% juice's. Anything that can be easily fixed for a child. Also if anyone might have a gently used regular backpack they can use these. Through the year they wear out and need to be replaced. These supplies will go to the Sunset Lake Elementary School in Vicksburg, Mich.

WHITE ELEPHANT SALE: This will take place again this year. This is the seed money for next year and we ask that you bring 2-3 or (more if you'd like) items for bidding. They must be either wrapped or in a sealed bag. Its always fun and a surprise to see what you might get in your bag or box!!

FRIDAY EVENING: There will be a light meal of some sort and snacks provided. We ask all Lecturers to bring some sort of snack for the rest of the weekend.

CHILDREN ATTENDING THE CONFERENCE: Any children under 12 attending the conference will room with parents at no extra cost for room. Registration & Meals will be the prices listed.

2015 GREAT LAKES GRANGE LEADERSHIP CONFERENCE

ALL ARE INVITED!

Click Here for Registration Form & Prices

"FOUNDATIONS FOR INVOLVEMENT"
Great Lakes Grange Leadership Conference
Hosted by Michigan
April 24– 26, 2015
At: Indian Lake Nazarene Camp
8258 Victory Street, Vicksburg, MI 49097
Conference Center