2022-2023​ Michigan State Grange Officers



​​​​

Master: Christopher Johnston
O​verseer: Sharon Popler
​Lecturer: Jackie Bishop
​Steward: Tim Johnston
​Asst. Steward: Richard Hazen
​​Lady Asst. Steward: Nancy Swainston
​​Chaplain: Jeff Swainston
​Treasurer: Kevin Young​
​Secretary: Peggy Johnston
​​Gatekeeper: Randy Cebulski
​Ceres: Maria Lopez
​Pomona: Mary Beth Bower
​Flora: Tricia Eidsmoe
​Executive Committee: Barbara Johnston, Dale Moore, Tom Smith
​Pianist: Kevin Young

Views since 2015 State Session
Starting October 19, 2015

GOOD DAY!



Get the new quarterly publication from The National Grange!
The year subscription is only $16.00.

​​Get it for yourself, your Grange or as a gift for another member or even that potential member!
​​
Click this link to subscribe​​
Michigan Farmer Hall
of Fame

Want to join the Michigan Farmer Hall of Fame?? Click the links below for the applications to either be inducted or join as a member.

Click here to apply to be inducted into the Michigan Farmer Hall of Fame

Click here to apply as a member of the Michigan Farmer Hall of Fame


Michigan Grange Pins



Available for $5.00 each, if shipped, will cost more.

Contact the State Secretary to purchase or to sell.

Proceeds will go towards celebrating
​Michigan State Grange's 150th Anniversary​​​​​​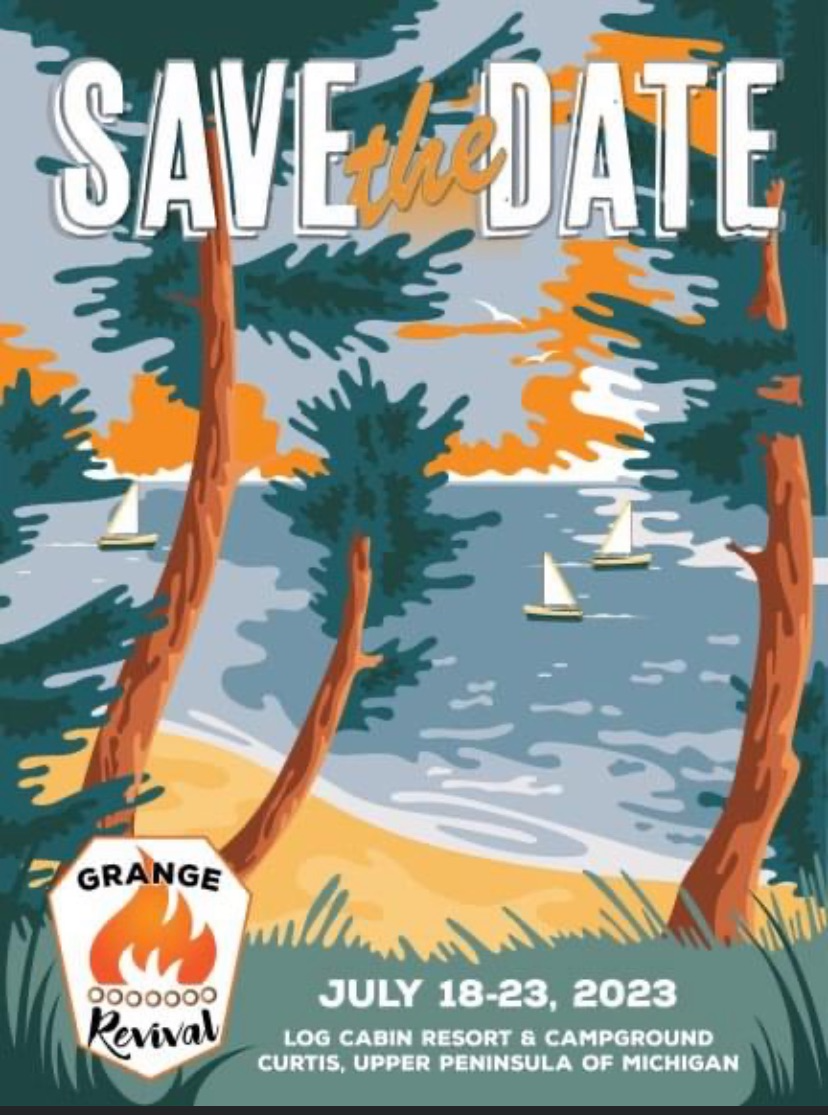 GRANGE REVIVAL 3.0
Log Cabin Resort & Campground
Curtis, Michigan
in the beautiful Upper Peninsula!​​
​July 18-23, 2023
​​Mark your calendars and pack your bags!
Details and registration information ​can​ be found at grangerevival.com
Views since 2021 State Session
Starting November 5, 2021​
CONGRATULATIONS
to the winners of the Michigan State Grange​
Sesquicentennial Gala Raffle!​
1st Prize
Linda Preston
2nd Prize
Margaret Sparks
3rd Prize
Jim Uhrick​​​​​​​​​
MAY IS BETTER HEARING AND SPEECH MONTH

​Each May, Better Hearing & Speech Month (BHSM) provides an opportunity to raise awareness about communication disorders and the role of ASHA members in providing life-altering treatment.
​
For 2023, the theme is

"Building a Strong Foundation"

.
​
A Note About the Name "Better Hearing and Speech Month"
​Better Hearing and Speech Month (BHSM) has
been recognized by its current name for more than 50 years. The name will remain the same for 2023. However, later
this year there will be an announcement about the future of the month's name.
​
According to the World Health Organization's first World Report on Hearing. Noise is now being acknowledged as

an important public health issue and a top environmental risk faced by the world today.​

​

Over 50% of people aged 12–35 years listen to music via personal audio devices at volumes that pose a risk to their

hearing.

A rule of the thumb for staying safe is to keep the volume below 60%.

If you frequently use personal audio devices around loud sounds: instead of turning the volume up, consider using

noise cancelling earphones or headphones.

Listening through personal audio devices should not exceed 80 dB (adults) or 75 dB (sensitive users: e.g., children)

for 40 hours a week.

Listeners who regularly use portable audio devices can expose themselves to the same level of sound in 15 minutes

of music at 100 dB that an industrial worker would receive in an 8-hour day at 85 dB.
Michigan State Grange's Sesquicentennial Celebration
​April 15, 2023