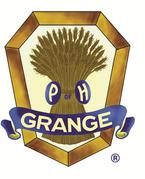 2014-2015 Michigan State Grange Officers



​​​​

Grange Items Available
In keeping with our fiduciary responsibilities, the Executive Committee must scale back to a smaller storage unit. At present, there are a number of items in storage that would be better off someplace where they could be truly wanted and enjoyed. One of these potential places is at local historical museums, where Grange history and impact could be preserved. Some items have already been given to Michigan State University Museum and Archives, as
well as the State of Michigan Museum, and Bentley Library, associated with University of Michigan.

We are asking you to go to your local museums and ask them if they would like any of the artifacts listed below. Then, contact Jackie Bishop by e-mail at Jacqueline_bishop@hotmail.com or by phone message at 269-365-0401. We will make arrangements to get these items to you so that you may personally present them to your local history museums.



Items available:


Songbooks – several different ones, some quite old
Grange Seals – there might be one from your county, which could be determined
Regalia – not likely to be whole set, because some not in good condition
Possibly also MSG Proceedings and other miscellaneous items
Creative

FUNDRAISING
F

ind a date in the next year to have an additional fundraising event at your Grange


U

tilize Michigan State Grange officers to help man your event


N

otify the Michigan State Grange office when the event will be and how many people are needed


D

elegate tasks to the Michigan State Grange helpers


R

un the event in the way you normally do


A

dvertise your event in the normal ways


I

nvite lots of people to your event


S

ell to or Serve those that attend your event


I

nclude your processes for success that are used in your other local Grange fundraisers


N

ew concept to replace Michigan State Grange raffles


G

ive the profit to the Michigan State Grange

This is a new approach developed by the Michigan State Grange Executive Committee to be utilized in 2014/2015. Please help our Michigan State Grange have the funds to provide continued support to the Subordinate Granges so that they may serve local communities.
Master: Christopher Johnston
Overseer: Jeff Swainston
Lecturer: Sharon Popler
Steward: Ted Mudd
Asst. Steward: Tim Johnston
​Lady Asst. Steward: Barbara Johnston
Chaplain: Kathryn Strouse
Treasurer: Kevin Young
Secretary: Peggy Johnston
Gatekeeper: Walt Murphy
Ceres: Nancy Swainston
Pomona: Karen Strouse
Flora: Tricia Eidsmoe
Executive Committee:
Jackie Bishop
Ron Ely
Dale Moore
Pianist: Kevin Young

CONGRATS
To Carol Engel of Reading, MI
Winner of this beautiful quilt!
Quilt donated by Helen Mudd
PENNIES FROM HEAVEN COLLECTION

We have obtained a new container to collect pennies (or other forms of money) to help with the expenses that the Michigan State Grange will have when we again help to host the National Grange Convention in 2019.

Please save your coins, bills or even checks and either send them to the Michigan State Grange office at 404 S. Oak Street, Durand, MI 48429 or bring them to the Michigan State Grange Convention in Lenawee County this October. The jug will be on my station throughout the convention.

Expenses that we have vary from convention to convention but normally amount to a large sum. This is just one way we can help "in a small way" to come up with the amount needed. I've got the bottom covered!



SAVE! SAVE! SAVE! SAVE! SAVE!
CAN YOU HELP??

MICHIGAN STATE GRANGE WISH LIST
If you can help out the Michigan State Grange with some of the items listed on the list below, it would be greatly appreciated. Your help would reduce the office supply cost for this next year. Please consider giving.

Either bring it to the annual convention or mail it to Michigan State Grange, 404 S. Oak Street, Durand, MI 48429. Thank you!

1st class stamps. (Books or rolls)

Black ink cartridges HP 61XL

Color ink cartridges HP 61

8 1/2 x 11 copy paper (reams) 20# weight

11 x 17 copy paper (reams) 20# weight (for MGN)

#10 White business envelopes

6 x 9 OR 9 x 12 Manila envelopes

Pencils. #2 lead

Bic Round Stic Grip Pens - fine tip - black ink

Sticky note pads

Paper clips - large or small

White address labels 1" x 2 5/8"










UPDATED STATE SESSION INFORMATION!!!