2019-2020 Michigan State Grange Officers



​​​​

Master: Christopher Johnston, Overseer: Sharon Popler, Lecturer: Jackie Bishop,
​Steward: Barbara Castle, Asst. Steward: Bob Persons,
​​Lady Asst. Steward: Sandy Persons, ​Chaplain: Jeff Swainston, Treasurer: Kevin Young,
​Secretary: Peggy Johnston, ​Gatekeeper: Walt Murphy,
​Ceres: Nancy Swainston, Pomona: Mary Beth Bower,​ Flora: Tricia Eidsmoe,
​Executive Committee: Ron Ely, Dale Moore, Doris Felton,
​Pianist: Kevin Young

Views since 2015 State Session
Starting October 19, 2015

GOOD DAY!



Get the new quarterly publication from The National Grange!
The year subscription is only $16.00.

​​Get it for yourself, your Grange or as a gift for another member or even that potential member!
​​
Click this link to subscribe​​
Michigan Farmer Hall
of Fame

Want to join the Michigan Farmer Hall of Fame?? Click the links below for the applications to either be inducted or join as a member.

Click here to apply to be inducted into the Michigan Farmer Hall of Fame

Click here to apply as a member of the Michigan Farmer Hall of Fame


Michigan Grange Pins



Available for $5.00 each, if shipped, will cost more.

Contact the State Secretary to purchase or to sell.

Proceeds will go towards celebrating
​Michigan State Grange's 150th Anniversary​​​​​​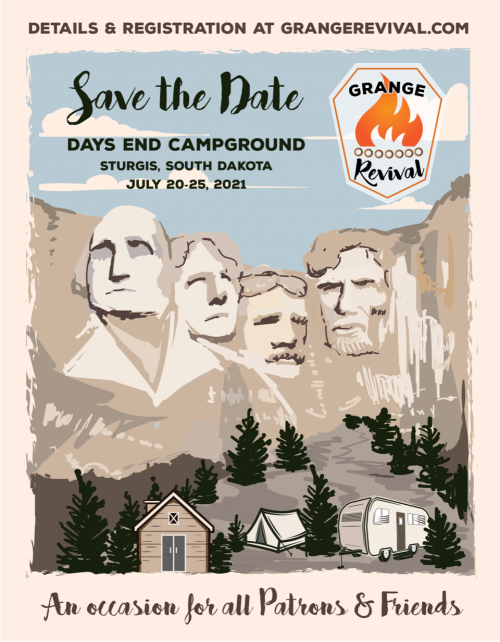 GRANGE Revival 2.0


Days End Campground

​Sturgis, South Dakota


​​Mark your calendars and pack your bags!
More than 70 Grangers joined us in 2019 for the inaugural event held in Ozark, Arkansas.


Now it's your turn!

​


Details and registration information

​can
​
be found at grangerevival.com
Deaf Awareness Department Quilt Raffle


We will be drawing for this Queen Size Very Colorful Quilt at the Annual Convention in October.

Tickets will be available soon and will

​sell for $1.00 each or 6 for $5.00.

Proceeds will go towards a new Deaf Awareness Project

​to make our posters more available and

​visible throughout the state.
MICHIGAN STATE SESSION CHANGES FOR 2020



The 2020 Michigan State Grange Convention will be held October 24, 2020 (one day only) at the
Ramada Inn and Conference Center at 2650 South I-75 Business Loop, Grayling, MI The number for
the hotel to make your reservations is: 989-348-7611.

Only State Officers, Department Directors and Delegates will be in attendance . Business activities to include resolution work, e
lection of officers, budget approval, a small memorial service, and installation of officers.
​
There will not be a display room, committee meetings or degree work this year.​​​​



CHANGES TO DEPARTMENT CONTESTS:





LECTURER:


I have decided to still hold two of the contests for Subordinate members using electronic submission. The rules are the same as printed in the Program Booklet. All entries must be submitted as an attachment to an e-mail (files no larger than 100MB please). The entries must be received by September 10 to Jacqueline_bishop@hotmail.com. Entries will be judged, and 1st, 2nd, and 3rd place winners will be announced at the Michigan State Grange session. In addition, the first-place winners in each class will have their entries printed in the Michigan Grange News. There will be no Best of Show, as National Grange is not holding their contest in the same way as in the past.
​
1) Creative Writing Contest (1 class)
A. Story: My Favorite Holiday (400-600 words)

​2) Photography Contest (3 classes)
C. Scenes (no people or animals in the photo)

Click here for the National Grange Photography Contest - Anyone can enter directly.​​



COMMUNITY SERVICE:


Program remains the same. Community reports forms/books are due to Mary Ann Rocco by
​September 10, 2020. Winning notebook will be scanned and sent to National.​

Law Enforcement Officer and Teacher of the Year Awards due September 10, 2020.



MEMBERSHIP:


Grange display still due October 1, 2020.​​​
​​
FAMILY ACTIVITIES:
No contest entries this year. Program will remain the same for 2021.



DEAF AWARENESS:


No contest entries this year. Program will remain the same for 2021.



AGRICULTURE:


No contest entries this year. Program will remain the same for 2021.



JUNIOR & YOUTH/YOUNG ADULT:


No contest entries this year. Program will remain the same for 2021.​​​​​​​​​​​​​