2019-2020 Michigan State Grange Officers



​​​​

Master: Christopher Johnston, Overseer: Sharon Popler, Lecturer: Jackie Bishop,
​Steward: Barbara Castle, Asst. Steward: Bob Persons,
​​Lady Asst. Steward: Sandy Persons, ​Chaplain: Jeff Swainston, Treasurer: Kevin Young,
​Secretary: Peggy Johnston, ​Gatekeeper: Walt Murphy,
​Ceres: Nancy Swainston, Pomona: Mary Beth Bower,​ Flora: Tricia Eidsmoe,
​Executive Committee: Ron Ely, Dale Moore, Doris Felton,
​Pianist: Kevin Young

Views since 2015 State Session
Starting October 19, 2015

GOOD DAY!



Get the new quarterly publication from The National Grange!
The year subscription is only $16.00.

​​Get it for yourself, your Grange or as a gift for another member or even that potential member!
​​
Click this link to subscribe​​
Michigan Farmer Hall
of Fame

Want to join the Michigan Farmer Hall of Fame?? Click the links below for the applications to either be inducted or join as a member.

Click here to apply to be inducted into the Michigan Farmer Hall of Fame

Click here to apply as a member of the Michigan Farmer Hall of Fame


Michigan Grange Pins



Available for $5.00 each, if shipped, will cost more.

Contact the State Secretary to purchase or to sell.

Proceeds will go towards celebrating
​Michigan State Grange's 150th Anniversary​​​​​​
MAY IS BETTER HEARING AND SPEECH MONTH
You have a hearing loss if you:
frequently ask people to repeat themselves

​often turn your ear toward a sound to hear it better

​

understand people better when you wear your glasses or look directly at their faces


lose your place in group conversations

keep the volume on your radio or TV at a level that others say is too loud

​have pain or ringing in your ears
"People who see themselves in these statements should see an audiologist for a hearing test. Even a very slight hearing loss can have an impact on your daily life. Hearing loss is treatable, and there is no reason for anyone to miss all the important sounds of life.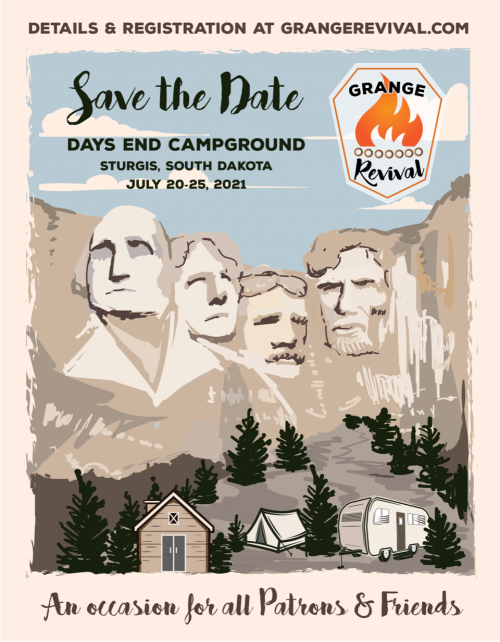 GRANGE Revival 2.0


Days End Campground

​Sturgis, South Dakota


​​Mark your calendars and pack your bags!
More than 70 Grangers joined us in 2019 for the inaugural event held in Ozark, Arkansas.


Now it's your turn!

​


Details and registration information

​can
​
be found at grangerevival.com
Deaf Awareness Department Quilt Raffle


We will be drawing for this Queen Size Very Colorful Quilt at the Annual Convention in October.

Tickets will be available soon and will

​sell for $1.00 each or 6 for $5.00.

Proceeds will go towards a new Deaf Awareness Project

​to make our posters more available and

​visible throughout the state.